A recent article in the Wall Street Journal quoted James Hammond,chief executive of New Generation Research as stating "We are going to see a level of bankruptcy activity that nobody in business has seen in their lifetime," his company tracks bankruptcy trends. "This will hit everyone, but it will be harder for small businesses since they don't have a lot of spare cash."
There are approximately 30 million small firms in the U.S. Moody's Analytics,chief economist- Mark Zandi, recently shared a note with clients saying "It wouldn't be surprising if well over 1 million of these micro firms ultimately fail," (businesses with 10 and under employees.)
Real estate however is going strong across the country. We are experiencing an uptick in buyer demand. A company I work with that faciliates showings called ShowingTime, tracks the average number of buyer showings on residential properties and recently stated, showings are up almost 62% compared to same time last year.(thats a national figure by the way)
Ok, before you start believing everything you hear and read….I am 'on the ground' and my take on all this….showings slowed in our spring market as the world was starting to realize there truly was/is a pandemic, so buyer demand did heat up because sellers were not putting their homes on the market. (they did not want people trudging through their home potentially leaving covid germs ) I am seeing homes under 350 in this area, do well and experience (generally speaking) multiple offers, but……over 350, can be another story. I am seeing homes where other agents are so confident the home they list will be multiple offers and then like a balloon where the air slowly leaks out, they realize it's just not so. Price still matters.
In some cases, we are short on inventory, and we DO have great interest rates, but…..please, please don't believe the hype.
Yes the National Association of Realtors recently said "while home sales are skyrocketing, the inventory of existing homes for sale is dropping dramatically" They even included a graph for August, (September numbers were not yet available):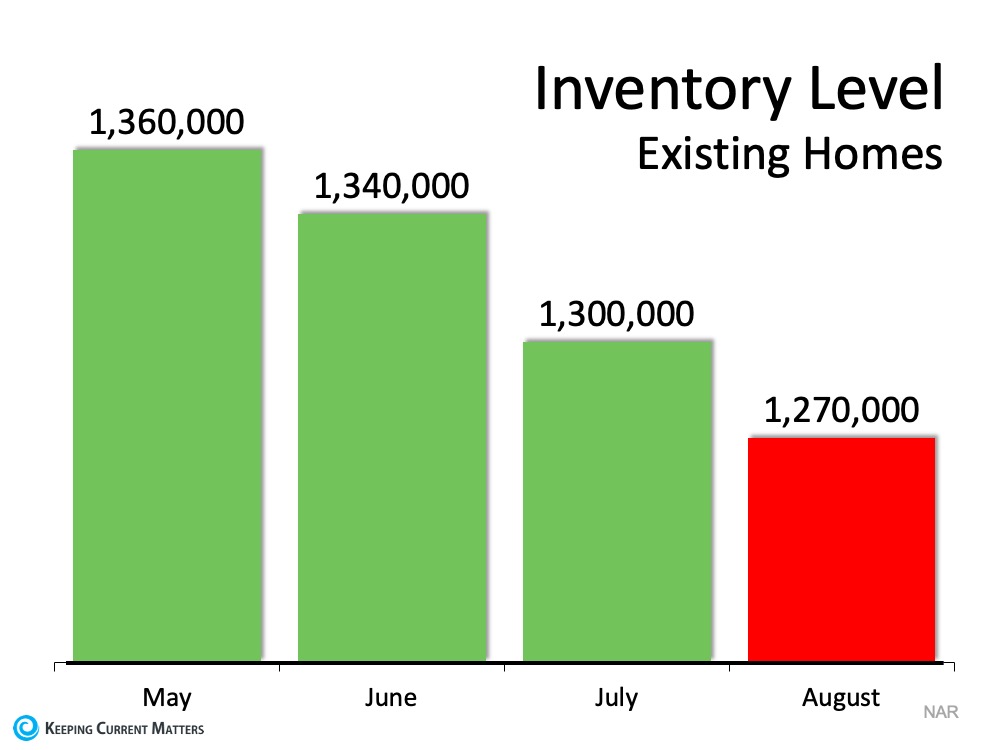 But again my friends, its just not 100% true…..we have some wonderful homes in this great market, languishing. I recently. had a seller explain real estate to me and let me know prices were skyrocketing, hahaha…..not so
So when you read reports like this, you need to know where the sky rocketing is happening (if at all), what parts of the country, what price point and what kind of condition that home is in. Yes buyers are searching, but, (love that word for this article) buyers are being very picky.
New home sales are brisk….but…. the is a blip on that as well……supplies like lumber for new homes are getting difficult to come by because of covid out breaks at the source.
Normally. this time of year real estate is slower as kids have gone back to school, not this year (and maybe not even next year) so people can move, and can work remotely and are searching for homes away from snow, away from big cities and eyeing our sweet area, which is booming….so it means, lets put your home on the market, it is time to sell. It should continue to be a good time to sell for at least the next few months even past the election.
Contact me and Let's Get You Moving!
Sharon Lewis
Sharon@SharonLewisHomes.com
Fathom Realty
Photo courtesy Keeping Current Matters