I am not a fan of painting over wood cabinets, because, I really believe that the wood cabinet look is going to come 'in' shortly to replace the all white kitchen cabinet looks, however…..if you are planning on selling, white cabinets, white counters and stainless appliances are so in right now. You can choose to pay a painter to do the work of painting. Depending on the size of your kitchen, you could be looking at a bill of approximately $5000. plus or, you can do it yourself.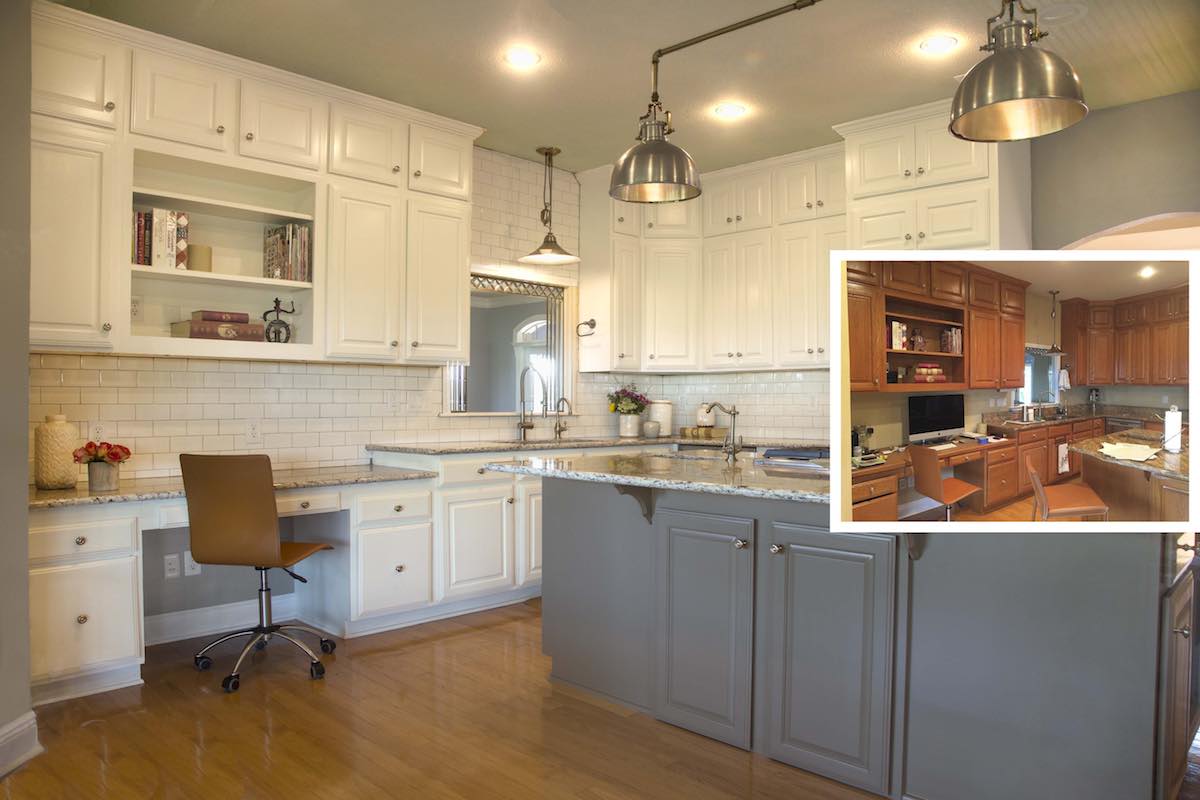 I am not saying its going to be easy or quick. Painted cabinets if not done correctly can/will chip and/or peel. Also for those of you who have thermofolil or that melamine, plastic laminate coating, don't do this, talk to a cabinet company about re-facing instead.
To start, use your garage. Put painter cloths down on your garage floor. Try to get the dust out of the garage before starting. You might want to wait for the cooler days of fall so you can open the doors without the worry that insects will come in, the garage will air out and painting is better in a non humid environment. Plus wood expands and contracts, so once you bring them back into the controlled environment of the kitchen, you may need to touch up. Place the cabinets on dowels so they are not sitting on the floor.
TIP Before pulling your cabinets down: use masking tape on the non painted side of the drawers and cabinets and add an A B C D E or 1, 2 ,3, etc matching it to where it needs to go back to so you don't wind up trying to hang a cabinet door in the wrong spot later on. Same thing with the hinges. Leaving hinges on will become an issue so remove them. Also remove all pulls, knobs, latches. Put the hardware, screws in plastic bags inside the cabinets they match,so you can easily find them when you start reassembling everything
With attractive rubber gloves on (lol) apply a degreaser, a popular one is Krud Kutter's Pre-paint Cleaner. Read the instructions, basically let it dry, wipe it down with a Deglosser like Jasco Sander Deglosser. I like this method as it means you won't have to hand sand all the hills and valleys of your cabinets. However, some painters still think you should sand, if you do, you want to make sure that all that dust is gone, gone, gone.Vacuum.
TIP Fill the hardware 'pull holes' with wood putty, if you plan on replacing them and need new holes afterwards. Do sand these
TIP- If you want to a smooth finish, pick up a sprayer for the Primer and Paint coats, so you can shorten the length of this project. They aren't expensive, under 65.00. or I believe Home Depot rents all that good stuff like ladders and sprayers, Don't lay on thick coats of paint, thats how dripping starts and do let it thoroughly dry between coats…4 plus hours. Check manufacturer directions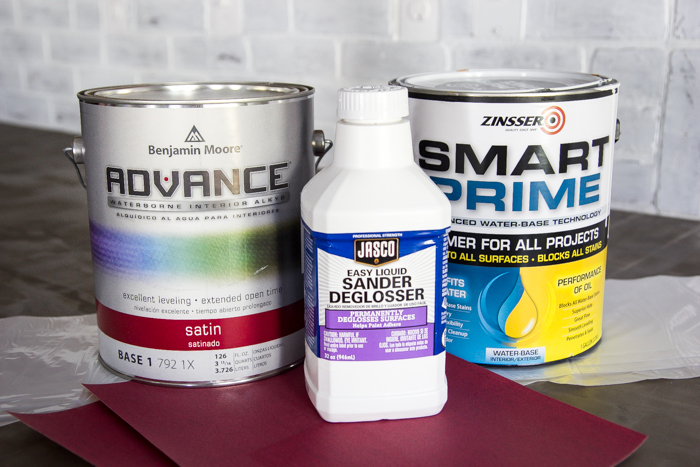 Use a primer like Sherwin Williams or Benjamin Moore's Advance Primer, its around $55.00 a gallon,but worth it. Allow it to dry and then tada- apply your color. Benjamin Moore's Advance line will take a longer time to dry. Do- let it dry thoroughly between coats. I would suggest a test cabinet or piece of wood to make sure you really love the color if you are painting a different color. FYI- Benjamin Moore's 'Advance' line self-levels, which means using their primer and paint should produce super smooth, professional looking results and according to Benjamin Moore, their whites won't turn yellow over the years. My painter has suggested using a satin sheen, because not only is it easier to wipe down, the look won't show scratches like the flats or glossier paints.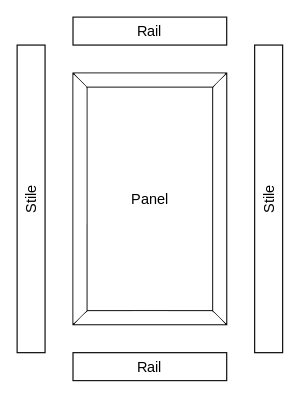 Most kitchen cabinets have hills and valleys or technically they are called rails and stiles. Stiles run vertically, rails horizontal and panels the big piece. During your painting process while paint is still wet, run a razor blade gently between the floating panel and the frame to remove any excess paint and break the seal.
While the fronts are drying, head back into the kitchen and paint the cabinets…same thing as the fronts, same steps, starting with the degrease first. One of your best friends on this project is going to be the person working in the paint store, they can recommend the right tools to use, roller or brush. And research. I like to read several articles about any project I am starting to make sure I am on the right 'path'.
Between coats, hit the cabinets. Definitely talk to the folks at the paint store for brush/roller recommendations. You'll want something that won't leave marks. I don't suggest painting the interior of the cabinets unless you have glass doors, pick something neutral. Use a small dowel or chopsticks or something point to get the paint out of the screw holes or shelf pin holes.
Almost done…..my suggestion, once the doors etc have thoroughly dried, use a sand paper (0000), lightly sand and then coat with 2-3 coats of a water-based polyurethane
It can take a long time for paint to dry. If you have painted shelves, don't put anything on them until they have properly 'cured' same with cabinets, don't close them or put them up until the paint has had about a week to really dry.And no cleaning for about a month, because it could take that long for them to dry. I like to use the plastic 'bumpers' on the tops and bottom interior of cabinets to keep them from marking.
So here's the thing, this is not a quckie 'do it yourself' project. Its quite involved and you need to have the patience of waiting. It why I suggest doing it in the cooler months as well.
If you are going ahead and doing this, please send me the before and after photos, would love to see and hear how it all turned out for you.
When you are ready to sell or buy, give me a call 919 561 0411 Let's Get You Moving!
Sharon Lewis 919 .561.0411 Broker in Charge
Sharon Lewis Homes
Let's Get You Moving!
~Sharon